The FX DUV Fluorescence Detector is a small size, light weight, lower power system focused on detection and classification of ultra-trace concentration of organic contaminants on surfaces such as high-performance optical components, semiconductors and other manufactured surfaces susceptible to ultra-trace levels of contamination.
The FX has a working distance of 100mm and a +-5mm depth of focus, making it suitable for a wide range of in process surface contamination inspections and measurements.
A major driving motivation for FX is the ability to detect chemical contaminants of critical component surfaces as part of QA processes.
A second driving motivation for FX is real-time detection of contaminants in liquids or water.
A third driving motivation is the ability to detect  biological material on surfaces or in water.  This is not possible with other methods, including 1064nm, 785nm or 532nm Raman methods.
The FX includes:
Deep UV laser and controller
6-band deep UV detector with 8-decade dynamic range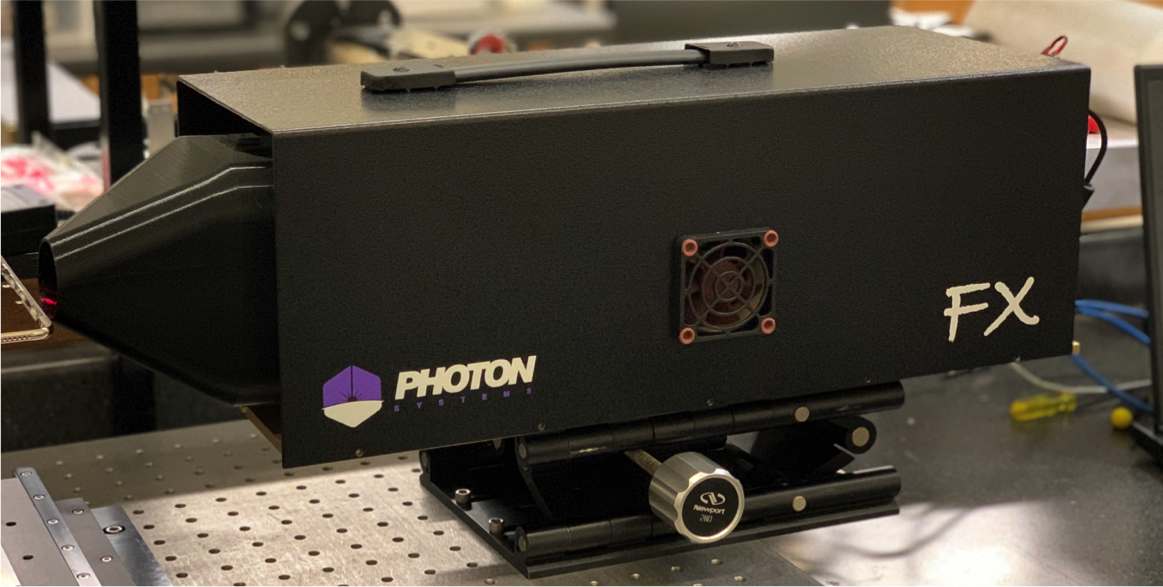 Extreme Sensitivity

PMT array detector with multi-channel gated boxcar integrator/averager allows >8 decades of dynamic range and ability to detect chemicals down to the low ng/cm2 range

DUV Laser Excitation Source

248nm high power deep UV laser with power supply and digital controller is capable of data sampling rates to 40 Hz.

Depth of Focus

Large depth of focus from 100mm +-5mm
Deep UV fluorescence detection offers significant advantages for organic trace surface contamination detection.  With laser based detection, the limit of detection can be well under 1 nanogram per square cm. Through the use of multiple detection bands, multiple contaminants can be detected.
Photon Systems focuses on explosives detection using the combination of deep UV autofluorescence and Raman spectroscopy using deep UV sources that enable compact, low power consuming devices
Pharmaceutical production, food culture industry and other processes that produce products requiring documented high levels of purity and freedom from contamination.
Photon Systems has developed a unique instrument to measure the deep UV non-specular scatter properties of optical elements, including gratings, mirrors, filters, etc.
Keep informed about the latest deep UV developments at Photon Systems by joining our mailing list.
1512 Industrial Park St. Covina, CA 91722-3417