DUV Raman enables accurate detection of nitrates and nitrites in water and wastewater with specificity that is unmatched by traditional absorbance detectors.
Chemical sensors with high sensitivity, specificity, and low cost are needed for real-time reagentless measurement of nitrates, nitrites and other key compounds increasingly regulated by the government.  DUV Raman based sensors enable accurate and efficient reduction these regulated compounds with minimum consumption of energy and chemicals at great cost savings.  The performance and efficiency of biological nutrient removal (BNR) wastewater treatment plants (WWTPs) can be dramatically enhanced by the ability to provide near-real-time monitoring of nitrate and nitrite in BNR activated sludge reactors.
Real-time on-line monitoring of these parameters without the use of reagents or complex calibration procedures provides input to the process control systems to optimize performance of treatment systems designed for low nitrogen effluent concentrations.  According to the Water Environment Research Foundation, poor sensor performance and high maintenance costs are the major roadblocks to improved automation and reduced WWTP operating cost and environmental impact.
Poor sensor performance in present real-time NO3/NO2 sensors is due to the present methods, using UV absorption, which is very susceptible to errors due to interference from organic and other compounds found in wastewater along with the NO3/NO2 which absorb equally and give false positive readings of the NO3/NO2 in the wastewater. As a result present sensors do not enable accurate nitrogen reduction dosage, a large cost component of waste water treatment. Large savings are possible when accurate real-time measurements are employed.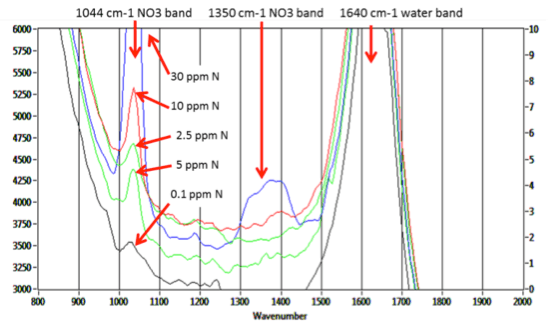 Real Time Process Control

Sending samples to the lab and waiting is not acceptable for precise process control.

Lack of Specificity

Traditional measurement techniques are easily confused.
The DUV family of lasers offer 224.3 nm and 248.6 nm for fraction of the cost of the competition. The laser is the size, weight and power consumption of a HeNe laser but with output in the deep UV.
A fully integrated lab model deep UV resonance Raman and photoluminescence spectrometer with microscopic imaging.
Keep informed about the latest deep UV developments at Photon Systems by joining our mailing list.
1512 Industrial Park St. Covina, CA 91722-3417