Deep UV detection methods addresses the need to provide non-invasive, non-destructive and non-contact instrumentation and methods to enable the ability to rapidly detect and identify items of forensic interest.
These methods offer a number of significant benefits for forensic analysis and narcotics detection. Due to the varied and unknown nature of objects or surfaces to be analyzed, the presence of background fluorescence can be a significant confounding factor.  Deep UV excitation permits fluorescence analysis in spectral regions outside of many backgrounds (for example, fingerprints on paper). Deep UV Raman excitation enables Raman analysis in the presence of highly fluorescent backgrounds that would otherwise obscure the Raman signal when excited by longer wavelength sources.
Also, Deep UV detection eliminates the need for reagents or taggants that can contaminate a forensic scene or piece of evidence.  Most substances are naturally fluorescent  and have a relatively strong Raman signal when excited in the Deep UV.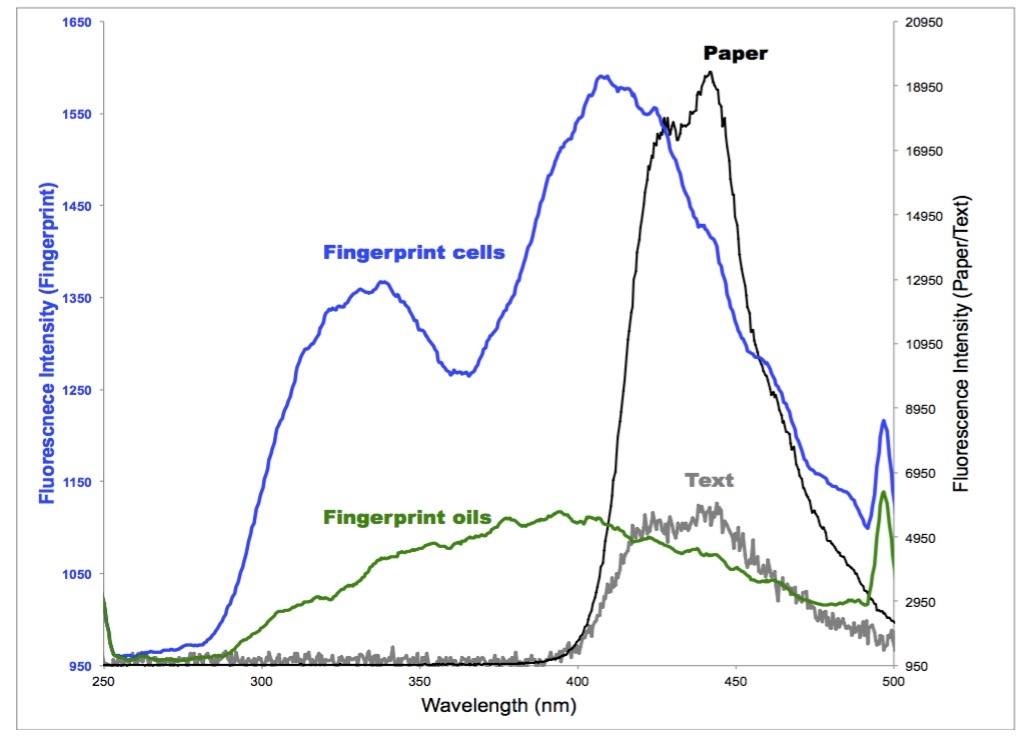 Sample Preservation

Non-contact, non-invasive and non-destructive methods of detection are desired

Contamination

Additives and taggants contaminate a forensic scene and can degrade subsequent chemical analysis of evidence.

Fluorescence Background

Many traditional methods are limited by background fluorescence obscuring the signal.  Deep UV detection overcomes this limitation
A major challenge in the fingerprint analysis community is to address the use of a non-contact, non-invasive, non-destructive method. Deep UV autofluorescence imaging translates well to fingerprint detection and morphological analysis.
The increasing trend of document fraud has led to the requirement for more efficient forensic investigation techniques for document forgery detection. Raman spectroscopy is a desirable technique for the analysis of inks used in document forgery because it allows easy and fast analysis with chemical selectivity.
A fully integrated lab model deep UV resonance Raman and photoluminescence spectrometer with microscopic imaging.
Keep informed about the latest deep UV developments at Photon Systems by joining our mailing list.
1512 Industrial Park St. Covina, CA 91722-3417